Home :: Skin Care :: Maturing Skin
Maturing Skin
The neck and chest are some of the first areas to show ageing, yet most of us ignore them.
Explanation
If you're in your twenties or thirties you may be surprised to find yourself in this category - surely maturing means you're in your forties well, not necessarily. What maturing skin means is that for some reason (be it sun damage, smoking, or high levels of stress) your skin is starting to act old and this may have nothing to do with what it says on your birth certificate. By acting old we mean that your skin may be starting to lose its natural glow or its elasticity. It's likely to be developing more lines than you would like or becoming a slave to open pores these things can begin as early as your mid twenties or thirties (probably due to those trips to spain as a child). How ever you can slow them down.
Tips for Maturing Skin
If you do have maturing skin you probably think cleansing is the least of your worries after all you're past the greasy, spotty stage. How ever cleansing the skin with the right products can actually help reduce some of the signs of ageing. Choose a cleanser that contains alpha or beta­acids, as these help increase cell replacement which slows on maturing reducing its radiance. They also help clean and shrink open pores that become more noticeable as we age.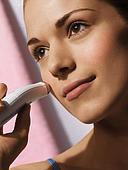 The use of aha/bha cleansers also removes the need for a toner which can dry maturing skin further once a week, use a gentle exfoliating scrub (or a peel-off face mask). This will remove dead cells and keep the skin glowing. In terms of moisturizing you should be aiming to replace oils and water (the more hydrated the skin is the less noticeable lines and wrinkles are) so choose rich creams that provide oil and attract moisture to the skin. When applying moisturizer don't make the mistake of stopping when you get to your chin the neck and chest are some of the first areas to show ageing, yet most of us ignore them. It will also help to choose products that incorporate age fighting ingredients like vitamin A (also referred to as retinols) vitamin C, coenzyme Q10, Kinetin and copper. Which you choose is up to you, as they all do the same thing fight molecules called free radicals that destroy healthy skin cells, collagen and elastin. Use these in your moisturizer or try serums which deliver intensive bursts of nutrients to the skin and finally, always wear sunscreen. None of the rest is worth doing if you don't even in winter it can take just 20 minutes of unprotected exposure to damage the skin. If you want to help ageing skin, your moisturizer must contain sunscreen of at least spf 15.